Agra, home to the iconic Taj Mahal, is a city that not only boasts of historical wonders but also offers a unique shopping experience. Here, you can discover exquisite handicrafts, traditional textiles, and an array of unique souvenirs.
1. Kinari Bazaar:
Embark on your shopping adventure at Kinari Bazaar, a lively market located in close proximity to the Taj Mahal. This market is a treasure trove of traditional Indian clothing, jewelry, and textiles. You'll find intricately designed sarees, embroidered fabrics, and colorful lehengas that are perfect for special occasions.
2. Sadar Bazaar:
Sadar Bazaar is another popular shopping hub in Agra. It offers a diverse range of products, from leather goods and shoes to handicrafts and jewelry. Don't forget to haggle with the local vendors to secure the best deals.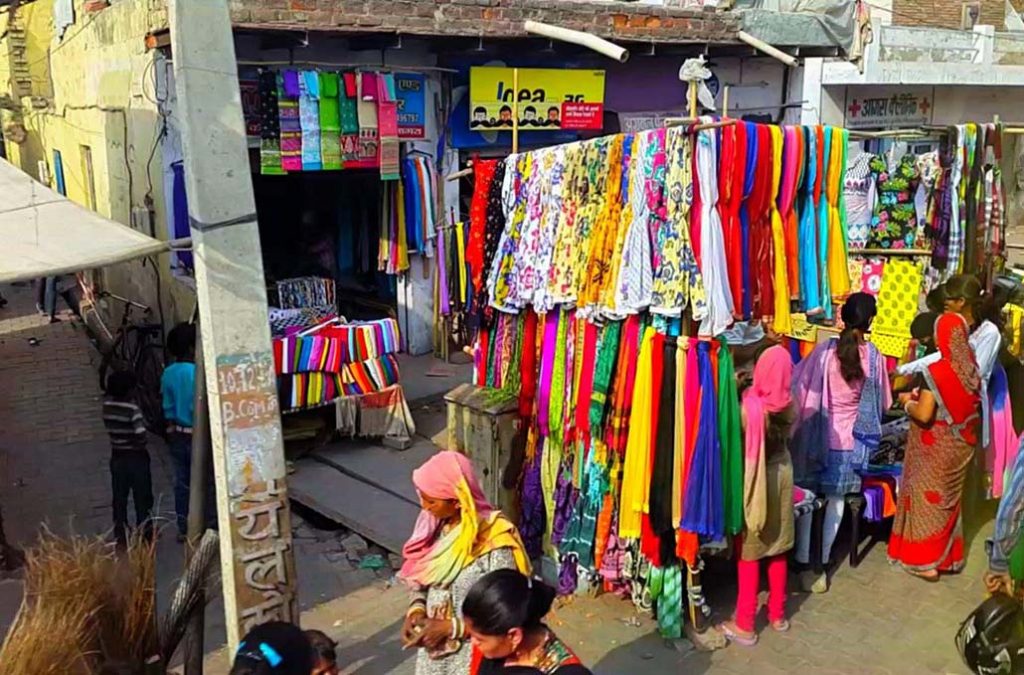 3. Marble Handicrafts:
Agra is renowned for its exquisite marble handicrafts. Visit the shops in the vicinity of the Taj Mahal to discover intricately carved marble souvenirs, including miniature replicas of the Taj itself. These make for fantastic mementos of your visit.
4. Jewelry and Gemstones:
Agra is celebrated for its gemstones and jewelry. Explore the jewelry stores in the city to find stunning pieces featuring precious and semi-precious stones. Whether you seek classic designs or contemporary styles, you'll find a wide selection to choose from.
5. Petha Sweets:
No visit to Agra is complete without savoring the local specialty—petha sweets. These sugary delights come in a variety of flavors and serve as delightful gifts to take back home. Be sure to visit Panchhi Petha, one of the city's most renowned sweet shops, to sample an array of petha varieties.
6. Carpet and Rug Shopping:
Agra is well-known for its beautiful carpets and rugs. Explore shops that specialize in handwoven rugs and carpets crafted from fine materials like silk and wool. These make for luxurious additions to your home decor.
7. Leather Goods:
Agra is a prominent hub for leather goods, including bags, wallets, and shoes. The local leather products are not only stylish but also of high quality. Explore the leather shops in Sadar Bazaar for some fantastic finds.
8. Handmade Paper Products:
For those who appreciate artisanal paper products, Agra offers a delightful selection. Look for shops selling handmade paper items such as journals, notebooks, and greeting cards. These unique souvenirs showcase the city's rich artistic heritage.
9. Local Markets:
In addition to the larger markets, make it a point to explore the local markets nestled within Agra's neighborhoods. Here, you'll encounter street vendors offering a wide array of trinkets and traditional snacks. These markets provide an authentic glimpse into everyday life in the city.
10. Shopping Tips:
Bargaining is a common practice in Agra's markets, so don't hesitate to negotiate prices.
Exercise caution when purchasing gemstones and jewelry; consider obtaining a certificate of authenticity for valuable items.
Before making marble product purchases, carefully inspect the quality, as craftsmanship can vary.
While shopping, don't miss the opportunity to indulge in local street food and snacks; Agra's culinary offerings are as diverse as its shopping options.
Shopper's Paradise Awaits
Agra's shopping scene is as diverse and lively as its rich cultural heritage. Whether you're in search of traditional Indian attire, finely crafted handicrafts, or delectable sweets, Agra offers a shopping experience that caters to every taste. Be sure to explore the local markets, engage in friendly haggling for the best bargains, and return home with unique treasures that serve as lasting memories of your visit to this remarkable city.