I embarked on a remarkable culinary journey through the vibrant city of Seattle. Renowned for its eclectic and dynamic food scene, the Emerald City beckons with a diverse array of gastronomic delights to suit every palate. I will share my immersive encounters with three delectable dishes while providing detailed descriptions of the locations, experiences, and an in-depth review. Moreover, I'll present four tantalizing recommendations for exceptional dining destinations in Seattle. Each suggestion will be accompanied by an exhaustive evaluation encompassing both strengths and weaknesses, flavor assessments, a rating index, and my personal insights into the reservation platforms. Join me as we explore the culinary marvels of Seattle!
Unveiling Seattle's Culinary Tapestry:
1. Pike Place Chowder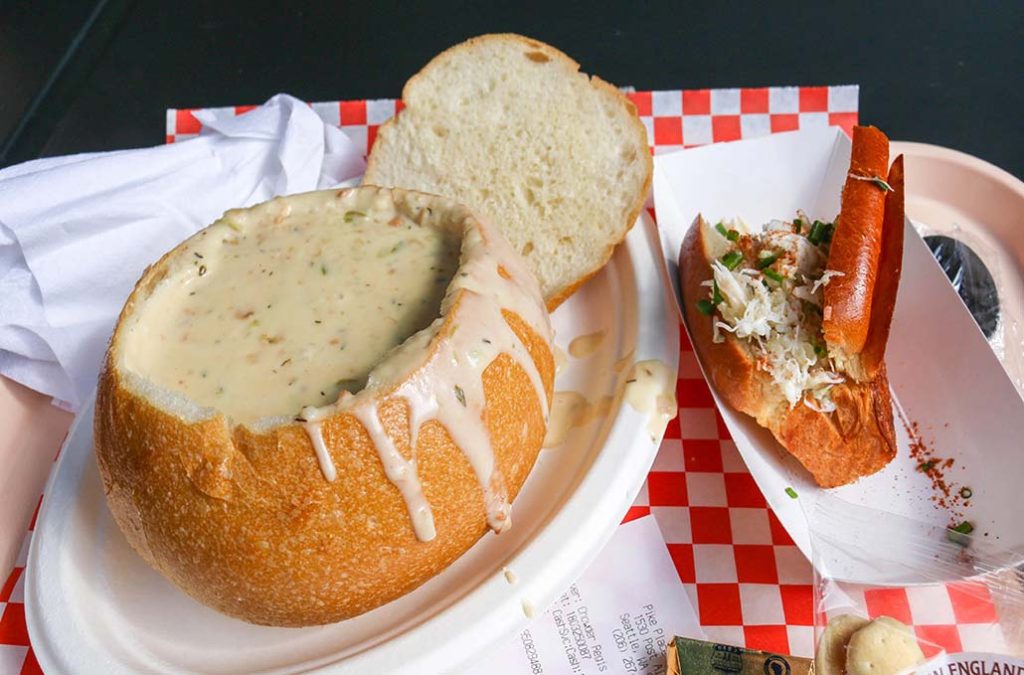 Location: 1530 Post Alley, Seattle, WA 98101
Experience:
Upon setting foot in the iconic Pike Place Market, my olfactory senses were instantly captivated by the enticing aroma of clam chowder wafting through the air. Pike Place Chowder, an unassuming gem nestled amidst the bustling market, stands as a bastion of award-winning chowders. My choice was the Classic Clam Chowder, elegantly served in a sourdough bread bowl, a quintessential Pacific Northwest comfort dish.
Flavor Evaluation:
The chowder was a symphony of textures and flavors. It was a creamy concoction teeming with succulent clams, tender diced potatoes, and aromatic herbs, resulting in a harmonious balance. The sourdough bowl provided a delightful crunch, impeccably complementing the smooth consistency of the chowder. The dish was impeccably seasoned, allowing the freshness of the ingredients to shine. Pike Place Chowder certainly lives up to its accolades, offering a warm, comforting taste of the Pacific Northwest.
Pros:
Prime location within Pike Place Market.
Generous portion sizes that leave you utterly satisfied.
Welcoming and efficient service.
A diverse array of chowder options to cater to various preferences.
Cons:
Extended queues during peak hours may require patience.
Limited seating capacity, so it's advisable to grab a to-go order and find a suitable spot to relish your meal.
Flavor Rating: 9/10
Recommendation Index: 4/5
Reservation Platform: Not applicable; Pike Place Chowder operates on a first-come, first-served basis.
Personal Perspective:
Pike Place Chowder is an indispensable destination for seafood aficionados. The memory of its clam chowder lingers, making the queue worthwhile. I'd recommend early visits to escape the crowds and relish your chowder while soaking in the vibrant market atmosphere.
2. The Walrus and the Carpenter
Location: 4743 Ballard Ave NW, Seattle, WA 98107
Experience:
For an upscale gastronomic experience in Seattle, I ventured to The Walrus and the Carpenter, an oyster bar and restaurant nestled in the heart of Ballard. The venue exudes a rustic, maritime charm, providing the perfect backdrop for indulging in some of the finest seafood offerings that the city boasts. I opted for a dozen local oysters, served with mignonette and horseradish, and the experience was nothing short of sublime.
Flavor Evaluation:
The oysters were astonishingly fresh and plump, delivering a briny, oceanic flavor that transported my taste buds straight to the shores of the Pacific. The mignonette sauce, a tangy amalgamation of vinegar, shallots, and peppercorns, served as the perfect complement to the oysters. The Walrus and the Carpenter's commitment to sourcing top-quality seafood shone through in every bite.
Pros:
An extensive selection of oysters and other seafood dishes.
Attentive and knowledgeable staff.
A warm and inviting ambiance.
A meticulously curated wine and cocktail menu.
Cons:
Reservations are highly recommended, and availability may be limited.
Prices are on the higher end, making it a splurge rather than an everyday dining option.
Flavor Rating: 9.5/10
Recommendation Index: 5/5
Reservation Platform: Reservations can be made through their website or popular platforms such as OpenTable.
Personal Perspective:
The Walrus and the Carpenter epitomizes excellence for those seeking the pinnacle of seafood dining. Advance reservations are strongly encouraged to secure a table, and don't forget to explore their impressive cocktail offerings. My experience here was truly extraordinary, and I'm eagerly anticipating a return.
3. Salumi Artisan Cured Meats
Location: 404 Occidental Ave S, Seattle, WA 98104
Experience:
In the historic Pioneer Square neighborhood, I unearthed a hidden gem catering to meat enthusiasts—Salumi Artisan Cured Meats. This family-run deli has gained renown for its handcrafted cured meats, especially their mouthwatering sandwiches. My choice was the Porchetta, a sandwich seamlessly harmonizing slices of succulent roasted pork, herbed aioli, and crunchy pickled peppers, all embraced within freshly baked bread.
Flavor Evaluation:
The Porchetta sandwich constituted a medley of flavors and textures. The tender pork exhibited a delectable smokiness, impeccably complemented by the aioli's creaminess and the zing of the pickled peppers. The bread provided an ideal foundation, delivering a satisfying chew that harmoniously united all elements. Salumi's unwavering dedication to their craft was evident, culminating in a masterpiece of flavors.
Pros:
Authentic Italian-inspired cured meats and sandwiches.
A welcoming and cozy atmosphere.
Budget-friendly prices for the quality on offer.
Ideal for a swift, flavorsome lunch experience.
Cons:
Limited seating capacity necessitates quick bites or takeout.
The menu is somewhat limited, but the focus on quality is unmistakable.
Flavor Rating: 8.5/10
Recommendation Index: 4/5
Reservation Platform: Not applicable; Salumi operates on a walk-in basis.
Personal Perspective:
Salumi Artisan Cured Meats represents a hidden trove for aficionados of savory, meat-centric delights. While seating is restricted, it's a stellar choice for a swift, gratifying meal during your explorations in Pioneer Square. The Porchetta sandwich is a non-negotiable try, and you'll readily acknowledge the craftsmanship infused into every bite.
Must-Visit Culinary Destinations in Seattle:
1. Canlis
Location: 2576 Aurora Ave N, Seattle, WA 98109
Experience:
For an elegant and unforgettable dining experience, look no further than Canlis. This iconic Seattle restaurant has continually captivated patrons with its breathtaking views of Lake Union, unparalleled service, and a menu that seamlessly blends Pacific Northwest ingredients with classic fine dining.
Review:
Canlis epitomizes refined dining in Seattle. The menu is a meticulously orchestrated journey through the flavors of the region, featuring options like Pacific King Salmon and Dungeness Crab. The wine list is extensive and expertly paired with each dish, and the service
is attentive without being intrusive. It's a superlative choice for special occasions or romantic evenings. However, be prepared for a substantial bill, as the experience carries a premium price tag.
Recommendation Index: 4.5/5
Reservation Platform: Reservations can be made through their website.
2. Taylor Shellfish Farms
Location: 124 Republican St, Seattle, WA 98109
Experience:
For a more laid-back yet quintessentially Seattle seafood encounter, Taylor Shellfish Farms takes the spotlight. This oyster bar and seafood market in Capitol Hill provides an unpretentious setting but boasts an impressive assortment of oysters, clams, and other shellfish.
Review:
Taylor Shellfish Farms places a premium on freshness. You can order oysters to shuck at home or relish them on the spot. They proffer a variety of oyster preparations, from raw to grilled, and the staff is always eager to offer guidance. It's a fantastic location to explore the diverse flavors of local oysters and soak in the welcoming, convivial atmosphere. The prices are reasonable, rendering it accessible to a wide spectrum of diners.
Recommendation Index: 4/5
Reservation Platform: Not applicable; Taylor Shellfish Farms operates on a walk-in basis.
3. Toulouse Petit Kitchen & Lounge
Location: 601 Queen Anne Ave N, Seattle, WA 98109
Experience:
For a taste of New Orleans in the heart of Seattle, Toulouse Petit Kitchen & Lounge presents a delightful Creole and Cajun dining adventure. Situated in the Queen Anne neighborhood, this restaurant is celebrated for its lively ambiance, delectable Southern cuisine, and an expansive cocktail selection.
Review:
Toulouse Petit is a lively, bustling venue where you can relish classic dishes like gumbo, jambalaya, and beignets. The flavors are robust, the servings are generous, and the cocktails are a true standout. The vibrant ambiance contributes to the overall experience, rendering it an excellent option for a lively night out with friends. Nevertheless, be prepared for elevated noise levels during peak hours.
Recommendation Index: 4/5
Reservation Platform: Reservations can be made through their website or popular platforms such as OpenTable.
4. Piroshky Piroshky
Location: 1908 Pike Pl, Seattle, WA 98101
Experience:
Piroshky Piroshky stands as a Seattle institution nestled within Pike Place Market, offering a taste of Russia through its mouthwatering pastries. The aroma of freshly baked piroshkies, Russian hand-held pastries, will lure you to this beloved bakery.
Review:
Piroshky Piroshky's piroshkies come in a delightful assortment of both savory and sweet flavors. From classic beef and cheese to apple cinnamon, each pastry is crafted with precision and artistry. They make for a convenient and flavorsome snack during your explorations in the market. Bear in mind that the establishment can become crowded, so prepare for a short wait in line.
Recommendation Index: 4/5
Reservation Platform: Not applicable; Piroshky Piroshky operates on a walk-in basis.
My culinary odyssey through Seattle was an enchanting revelation of the city's rich and diverse food culture. From the comforting chowder at Pike Place Market to the exquisite oyster indulgence at The Walrus and the Carpenter and the savory pleasures at Salumi, each culinary gem offered a distinctive glimpse into the tapestry of Seattle's gastronomy.
Seattle's culinary scene is a dynamic kaleidoscope of flavors, and my exploration has left me yearning for more. Whether you're in the mood for an opulent dining experience at Canlis, a casual seafood feast at Taylor Shellfish Farms, a taste of the South at Toulouse Petit, or a quick pastry fix at Piroshky Piroshky, the city has something to gratify every discerning palate.