I recently embarked on a captivating journey to Seattle, Washington. Renowned for its rich and diverse cultural landscape, the city boasts a myriad of museums and cultural hubs, each offering a unique window into the world of artistic expression. I'll guide you through my personal encounters with three favorite artworks and recommend four more exceptional pieces. I'll provide insight into the services, pros and cons, precise locations, transportation options, discounts, ticket prices, and share my candid perspective on booking platforms.
Exploring the Seattle Art Scene
Seattle is a city that breathes culture, and I eagerly immersed myself in its vibrant tapestry of artistic experiences. Join me as we embark on a journey to unravel the artistic and cultural gems that Seattle holds.
My Top Three Artworks:
1."Black Sun" by Isamu Noguchi at Volunteer Park: "Black Sun," an awe-inspiring creation by the eminent artist Isamu Noguchi, graces the landscapes of Volunteer Park. Its enigmatic, monolithic form exudes a sense of serenity and contemplation. In its presence, I was captivated by the profound harmony of simplicity and depth. The lush greenery of Volunteer Park provides a picturesque backdrop, making it a must-visit destination for art enthusiasts.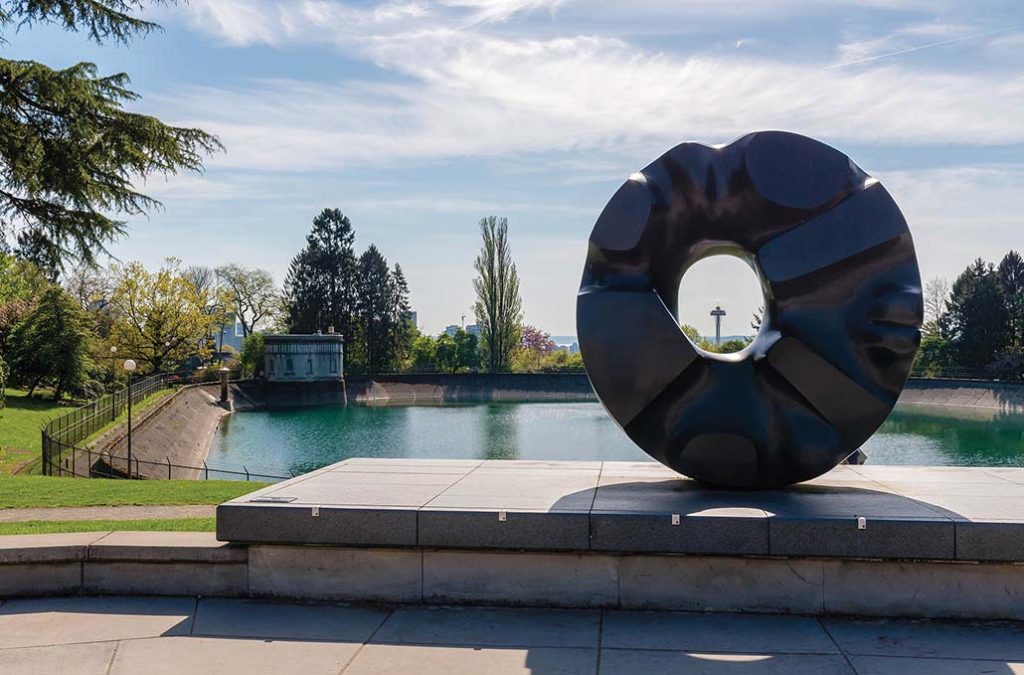 Description: "Black Sun" is a massive sculpture hewn from smooth, obsidian-black granite, resembling a disk-shaped sun. Its minimalist design radiates timelessness, encouraging contemplation of nature and the cosmos.
My Impressions: The sculpture's commanding presence was deeply moving. Standing amidst the natural beauty of Volunteer Park, it invoked a sense of tranquility and spirituality. It's a testament to how art can seamlessly blend with its surroundings, evoking a unique ambiance.
Standing before "Black Sun," I was immediately struck by its commanding presence. The simplicity of its design paradoxically evoked profound emotions. The sculpture's minimalist form, set against the backdrop of Volunteer Park's lush greenery, created a tranquil ambiance that felt almost spiritual.
The contrasting play of light and shadow on the sculpture's surface, depending on the time of day, added a dynamic aspect to the experience. As the sun moved across the sky, "Black Sun" seemed to come to life, constantly changing and offering new perspectives. It was a testament to how art can harmonize with its natural surroundings, transforming a simple concept into a captivating and serene experience.
I found myself spending a considerable amount of time in contemplation, basking in the artistic aura that "Black Sun" exuded. It was a moment of quiet reflection, a fusion of nature and art, and a reminder of the power that minimalism can hold.
The juxtaposition of this timeless sculpture against the vibrant greens of Volunteer Park was a sight to behold. It was a living testament to the fact that art, when thoughtfully placed within nature, can create a unique atmosphere that transcends the boundaries of time and culture.
My visit to "Black Sun" was a meditative experience that allowed me to connect with the essence of art and nature. It was a reminder that art can be a powerful medium for introspection and that sometimes, the simplest forms can carry the most profound meanings. "Black Sun" at Volunteer Park is undoubtedly a must-visit destination for art enthusiasts seeking a blend of minimalism and natural beauty in the heart of Seattle.
2."Starry Night" by Vincent van Gogh at the Seattle Art Museum: The Seattle Art Museum (SAM) is a treasure trove of artistic wonders, including Vincent van Gogh's iconic "Starry Night." This masterpiece, celebrated worldwide, left an indelible mark on me.
Description: "Starry Night" is an oil on canvas painting created by Vincent van Gogh during his stay at the Saint-Paul-de-Mausole asylum in Saint-Rémy-de-Provence, France. The painting portrays a swirling night sky adorned with stars and a luminous crescent moon, overlooking the village of Saint-Rémy.
My Impressions: Gazing upon "Starry Night," I felt a profound connection with the artist's turbulent emotions. The swirling patterns and vivid hues encapsulated the essence of the night – its turmoil and beauty. Witnessing this masterpiece in person was a surreal experience.
3."Hammering Man" by Jonathan Borofsky at the Seattle Art Museum: SAM also boasts the captivating "Hammering Man" sculpture by Jonathan Borofsky. This kinetic artwork, with its ceaseless hammering, symbolizes the tireless and repetitive nature of work.
Description: "Hammering Man" is a colossal, steel sculpture of a man wielding a hammer. The sculpture is in perpetual motion, with the hammer rhythmically rising and falling. It serves as a tribute to the unwavering dedication of workers in diverse fields.
My Impressions: "Hammering Man" powerfully embodies the spirit of human labor and its ceaseless contributions to society. Watching the sculpture's perpetual motion was mesmerizing and thought-provoking, fostering a profound appreciation for the dedicated individuals who shape our world.
Four Highly Recommended Artworks:
1."Olympic Iliad" by Alexander Calder at Olympic Sculpture Park: Nestled in an idyllic outdoor setting, Olympic Sculpture Park is home to Alexander Calder's "Olympic Iliad." This dynamic and vibrant sculpture injects playfulness into the park's serene ambiance.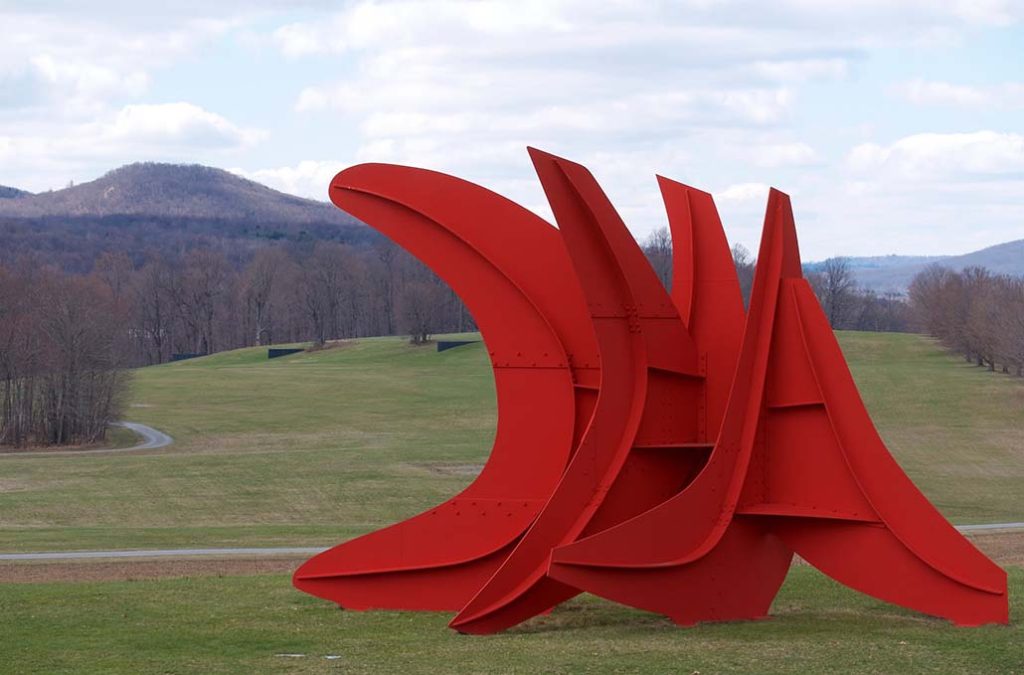 Description: "Olympic Iliad" is a sizable abstract sculpture adorned with vivid red and yellow forms. Calder's signature use of primary colors and whimsical shapes imparts a touch of whimsy to the urban landscape.
2."Polar Bear" by Tony Angell at the Museum of History and Industry: The Museum of History and Industry (MOHAI) in Seattle features a diverse array of exhibits, including Tony Angell's "Polar Bear" sculpture. This lifelike portrayal of a polar bear underscores Angell's mastery and commitment to wildlife conservation.
Description: "Polar Bear" is a bronze sculpture, meticulously crafted to capture the intricacies of a polar bear. It stands as a poignant reminder of the imperative need to protect these magnificent creatures and their natural habitats.
3."The Great Wave off Kanagawa" by Hokusai at the Seattle Asian Art Museum: The Seattle Asian Art Museum is a treasure trove of Asian art, and a standout piece is Hokusai's "The Great Wave off Kanagawa." This woodblock print is an iconic representation of Japanese art.
Description: "The Great Wave off Kanagawa" depicts a towering wave on the verge of crashing over three fishing boats. Its dynamic composition and intricate details have made it an emblem of Japanese art.
4."Musical Steps" by Jack Mackie at Pike Place Market: Pike Place Market, celebrated for its bustling atmosphere, also hosts artistic installations. "Musical Steps" by Jack Mackie is a unique artwork that encourages visitors to create melodies by stepping on colorful tiles.
Description: "Musical Steps" comprises a set of colored tiles on the steps of Pike Place Market. Each tile emits a musical note when stepped on, allowing visitors to craft impromptu melodies as they ascend or descend the steps.
These art pieces and sculptures, each narrating a distinctive story and significance, etched a lasting impression on my soul. Seattle's cultural offerings are a testament to the city's commitment to fostering creativity and enriching the lives of its inhabitants and guests.
Services and Practical Information:
Advantages: Seattle's cultural scene is diverse and accessible, with many museums and cultural centers providing guided tours, educational programs, and interactive exhibits to cater to a broad spectrum of interests. The city's public transportation system is efficient, simplifying navigation between attractions.
Disadvantages: The popularity of certain art installations and exhibitions can lead to crowded venues, especially during peak tourist seasons. It's prudent to check opening hours and make reservations in advance, if possible.
Specific Locations:
Seattle Art Museum (SAM): 1300 1st Ave, Seattle, WA 98101
Olympic Sculpture Park: 2901 Western Ave, Seattle, WA 98121
Museum of History and Industry (MOHAI): 860 Terry Ave N, Seattle, WA 98109
Seattle Asian Art Museum: 1400 E Prospect St, Seattle, WA 98112
Pike Place Market: 85 Pike St, Seattle, WA 98101
Transportation: Seattle boasts a well-connected public transportation system, encompassing buses, trams, and light rail. Many cultural institutions are readily accessible via public transit. Additionally, rideshare services and taxis are readily available for convenience.
Discounts: Several museums and cultural centers extend discounts to students, seniors, and members. Be sure to check their respective websites for special promotions or bundled ticket options.
Ticket Prices: Admission fees fluctuate based on the institution and visitor age group. Expect to pay approximately $20 to $25 for adult tickets to most prominent museums.
Recommendation Index: On a scale of 1 to 10, with 10 representing a highly recommended experience, I would bestow a solid 9 upon my sojourn in Seattle's art and cultural realm. The city's diverse offerings cater to a wide spectrum of interests, and the quality of the exhibitions and installations is genuinely impressive.
Booking Platforms:
When it comes to procuring tickets for Seattle's museums and cultural centers, I unearthed several dependable platforms that offer user-friendly and hassle-free experiences:
Official Museum Websites: Most of Seattle's museums and cultural centers maintain their websites, where visitors can procure tickets and glean insights into prevailing exhibitions, operating hours, and special events.
Third-Party Ticketing Websites: Platforms like "Eventbrite," "Ticketmaster," and "Viator" often supply tickets and bundled packages for assorted cultural attractions in Seattle. These platforms may also feature discounts and bundled offers.
City Passes: Contemplate investing in a Seattle CityPASS, an inclusive pass granting entry to multiple attractions at a reduced price. This pass may emerge as a cost-effective choice for individuals planning to explore numerous museums and cultural sites.
On-Site Ticket Booths: For those who favor flexibility, tickets can be procured at the entrance of most museums and cultural centers. Nevertheless, anticipate potentially longer wait times, particularly during peak hours.
Seattle's cultural tapestry is a treasure trove for explorers in quest of inspiration, education, and aesthetic gratification. The city's museums and cultural hubs offer a diverse spectrum of experiences, spanning contemporary art, historical exhibitions, interactive installations, and outdoor sculptures. Whether you're an aficionado of art or simply seeking to augment your cultural awareness, Seattle's artistic offerings will undoubtedly leave you with a profound admiration for the world of creativity. Seize the moment to delve into the mesmerizing domain of art and culture in this vibrant city of the Pacific Northwest.