Today, I had the pleasure of exploring Glasgow, a city that seamlessly combines its rich history with a vibrant modern spirit. Glasgow, often referred to as Scotland's modern gem, has left me captivated with its unique charm and an array of exciting places to visit.
1. Kelvingrove Art Gallery and Museum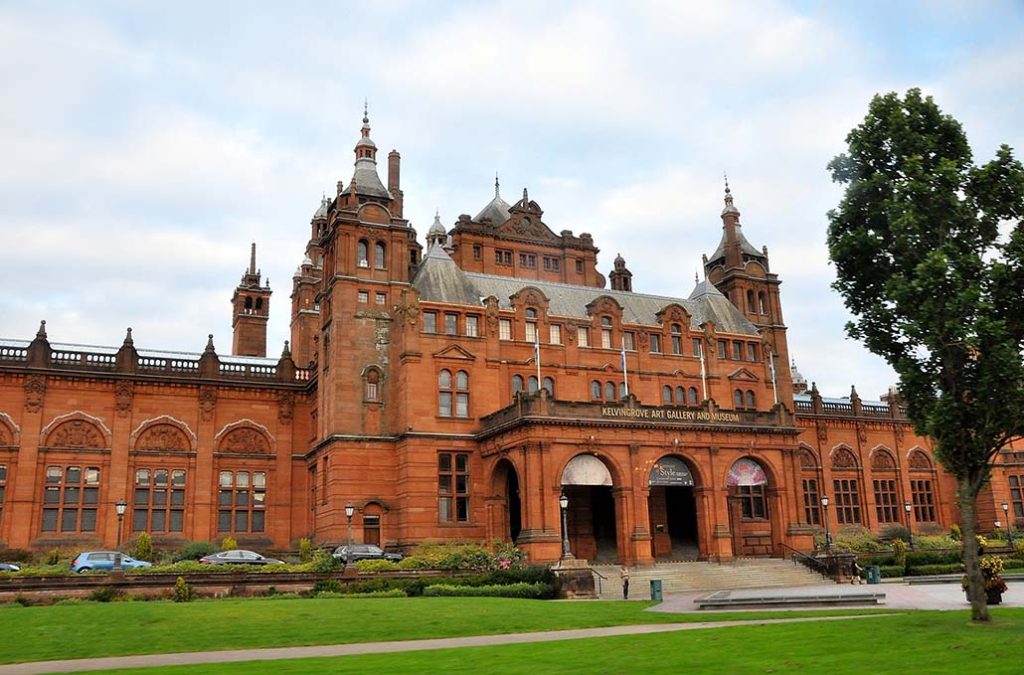 Location: Argyle St, Glasgow G3 8AG
Impressions: My day began at the Kelvingrove Art Gallery and Museum, a magnificent structure with Spanish Baroque architecture that houses an impressive collection of art, history, and natural history exhibits. The highlight for me was the awe-inspiring Salvador Dali masterpiece, "Christ of St John of the Cross."
As I stepped through the museum's grand entrance, I couldn't help but be awed by the architectural splendor of the building. The Spanish Baroque design sets the stage for the incredible treasures that lie within. The expansive atrium, home to a magnificent pipe organ, evokes a sense of grandeur and sophistication.
The Kelvingrove boasts a multifaceted collection encompassing art, history, and the natural world. My journey commenced as I ventured into the various galleries, each a world unto itself. The array of artifacts, from ancient relics to modern masterpieces, promised a rich tapestry of experiences.
The museum's art collection is truly a highlight. It's a joy for art enthusiasts and novices alike. I found myself in awe of masterpieces by celebrated artists, both local and international. The gallery housing Salvador Dali's "Christ of St John of the Cross" was a particular standout. The painting's symbolism and artistic brilliance left a profound impression on me.
The section dedicated to natural history was an enthralling journey through the Earth's diverse ecosystems. Ancient fossils, captivating taxidermy displays, and a life-sized T-Rex dinosaur model all contributed to a fascinating exploration of our planet's history.
Kelvingrove also houses an extensive collection of cultural and historical artifacts. I was intrigued by the exhibition of medieval armor and weaponry, as well as the captivating display of Egyptian mummies and ancient relics. These exhibits transported me through time and across different civilizations.
One of the museum's unique strengths is its interactive displays. Touch-screen panels, audio guides, and hands-on activities provided a dynamic and engaging way to delve deeper into the exhibits. These interactive elements added a layer of edutainment that I found both informative and enjoyable.
My visit coincided with one of the museum's temporary exhibitions, which added an extra dimension to the overall experience. The ever-changing displays provide a reason to return for future visits and explore something new.
The museum staff were approachable and well-versed in the museum's offerings. They were readily available to assist with inquiries and provide insights into the exhibits. A café on-site offered a convenient spot to relax and recharge during my visit.
The Kelvingrove Art Gallery and Museum is a cultural gem in Glasgow, delivering a multifaceted and enlightening experience. Whether you're a lover of art, a history enthusiast, or simply someone seeking to broaden their horizons, this museum promises something to captivate everyone. It's a must-see attraction for anyone traversing Glasgow.
One noteworthy aspect is that the museum offers free admission, ensuring accessibility to all. Donations are encouraged to support the museum's continued operation and preservation of its diverse collections.
My visit to the Kelvingrove Art Gallery and Museum was an odyssey through time, art, and culture. It's a place where history comes alive, and artistic treasures await at every turn. For those venturing to Glasgow, this cultural haven is an absolute must-visit.
2. Riverside Museum
Location: 100 Pointhouse Rd, Glasgow G3 8RS
Impressions: The Riverside Museum, nestled by the River Clyde, showcases Glasgow's transport heritage. I enjoyed exploring vintage cars, locomotives, and even hopping on an old tram. The museum's architectural design overlooking the river is a sight to behold.
3. Glasgow Science Centre
Location: 50 Pacific Quay, Glasgow G51 1EA
Impressions: After a delightful lunch, I headed to the Glasgow Science Centre, a hub of interactive exhibits and scientific wonders. The planetarium show took me on an incredible journey through the cosmos, and the panoramic city view from the tower was breathtaking.
As I approached the Glasgow Science Centre, the strikingly modern architecture caught my eye. Its titanium-clad facade exuded innovation and the promise of an exciting experience within.
This science hub boasts a multitude of interactive exhibits and scientific wonders. The moment I stepped inside, I felt a childlike curiosity take over. The center is thoughtfully organized into distinct zones, each dedicated to a specific scientific theme, and I couldn't wait to dive into the exploration.
The Space Zone was a celestial delight. I had the chance to marvel at life-sized spacecraft models, delve into the mysteries of the universe, and even embark on a simulated space journey within the planetarium. The planetarium show was a captivating tour of the cosmos, and the immersive visuals left me in awe.
The Body and Mind Zone was a fascinating exploration of human biology and psychology. Interactive displays explained the intricacies of our bodies, tested my reflexes, and unraveled the wonders of the human brain. It was a deep dive into the intricacies of our physiology.
This zone was an electrifying experience. I dabbled in renewable energy sources, experimented with wind turbines, and witnessed a captivating Tesla coil demonstration. The interactive exhibits on sustainable energy sources heightened my appreciation for environmental conservation.
The Exploration and Discovery Zone was a hit for visitors of all ages. It's a hands-on playground for experimentation, featuring interactive learning activities and the chance to build structures. Families and aspiring scientists alike will find this section both entertaining and educational.
I had the pleasure of attending a live science show in the theater, a lively and enlightening experience. The presenter made complex scientific concepts accessible and entertaining for the audience.
The Glasgow Science Centre places a premium on visitor engagement. The staff are well-informed and readily available to provide guidance and explanations. Interactive elements and touch-screen displays make it easy to interact with the exhibits. There's also a café on-site, a perfect spot to take a breather and savor some refreshments.
The Glasgow Science Centre is a haven for science enthusiasts, families, and anyone with a curious spirit. It's a dynamic place to learn, play, and be inspired by the marvels of science and technology. Whether you're a science aficionado or simply seeking an informative and engaging day out, this science center ensures a memorable experience.
Admission prices are reasonable, and special promotions and family discounts are often available. I suggest checking the official website for the latest information on opening hours and any special exhibitions or events.
My visit to the Glasgow Science Centre was an enthralling expedition of discovery. It's a sanctuary where science becomes a tangible, awe-inspiring reality, and the joy of learning is accessible to all. For those exploring Glasgow, this science center is an indispensable destination that will ignite your curiosity and leave you with a profound respect for the realm of science.
Recommended Attractions
4. Glasgow Cathedral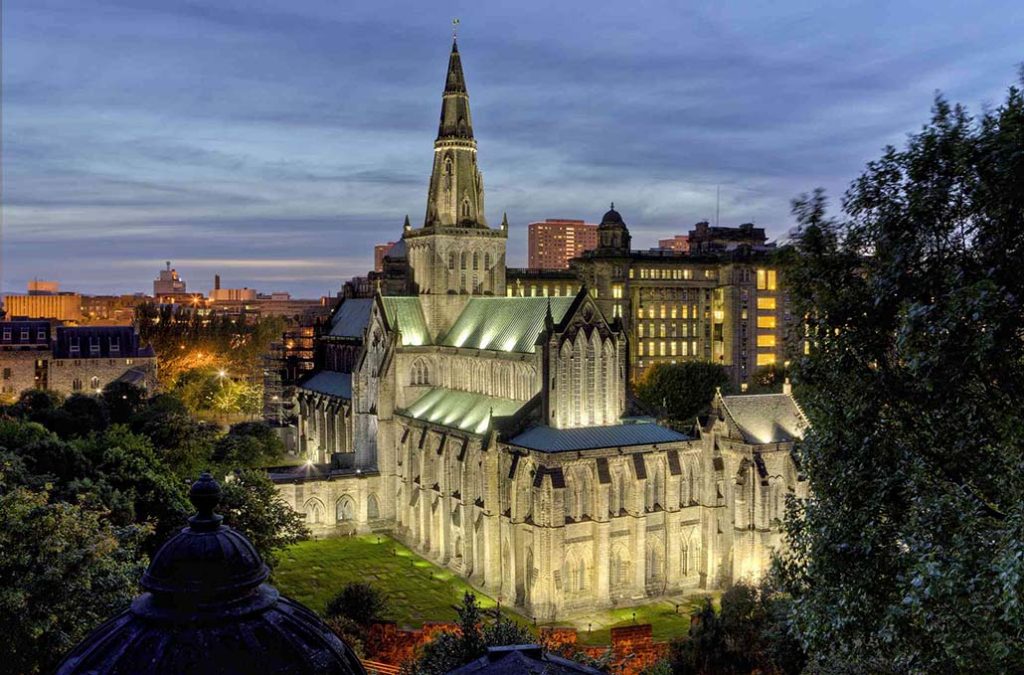 Location: Castle St, Glasgow G4 0QZ
Impressions: The Glasgow Cathedral is a masterpiece of medieval architecture with stunning stained glass, intricate stonework, and the serene Necropolis nearby. It offers a glimpse into the city's history and spiritual heritage.
5. The Necropolis
Location: 50 Cathedral Square, Glasgow G4 0UZ
Impressions: Perched atop a hill, the Necropolis is a Victorian cemetery adorned with intricate tombstones and sculptures. It's a place for quiet contemplation and offers panoramic views of Glasgow.
6. The Lighthouse
Location: 11 Mitchell Ln, Glasgow G1 3NU
Impressions: The Lighthouse is a center for design and architecture that celebrates Glasgow's innovative spirit. Climbing the helical staircase to the Mackintosh Tower provides stunning views of the city.
7. Pollok House and Park
Location: Pollok Country Park, 2060 Pollokshaws Rd, Glasgow G43 1AT
Impressions: Pollok House, set within a vast country park, is a step back in time. The Georgian mansion houses an impressive art collection, including works by Rembrandt and Goya. The surrounding park is ideal for leisurely strolls.
Service and Accessibility
Glasgow's attractions were well-maintained, and the staff provided excellent service. The city's transportation system was efficient, making it easy to navigate between sites. The primary language spoken is English, so communication was a breeze.
Pros and Cons
Pros:
Glasgow offers a diverse range of attractions, from art and history to science and nature.
The city is pedestrian-friendly, allowing for leisurely exploration.
There's a wide range of dining options, from traditional Scottish cuisine to international dishes.
The blend of modern and historic architecture creates a visually stunning cityscape.
Cons:
Glasgow's weather can be unpredictable, so it's advisable to be prepared for rain.
Some attractions may have entrance fees, so budgeting is important.
The city can get crowded, especially during peak tourist seasons.
Pricing and Recommendations
Ticket prices for the museums and attractions varied, with most being reasonably priced. Glasgow offers the Glasgow Museums Pass, allowing access to multiple sites at a discounted rate. I found this to be a great value, as it covered many of the places I wanted to visit.
Glasgow is a city that caters to a wide range of interests. Its modern allure intertwined with historical significance offers a dynamic experience. Whether you're an art enthusiast, a history buff, a science geek, or someone who simply enjoys exploring vibrant cityscapes, Glasgow has something to offer.