Amsterdam, the capital of the Netherlands, is a city that gracefully weaves together its rich historical tapestry with a contemporary and vibrant present.
A Symphony of Canals and History:
Amsterdam's iconic canals, designated as a UNESCO World Heritage Site, are a living testament to its storied past. Originating in the 17th century, these meticulously designed waterways are a remnant of the Dutch Golden Age. A leisurely walk along the canal-side streets reveals picturesque bridges, slender gabled houses, and charming houseboats, offering a glimpse into a bygone era.
Cultural Treasures Abound:
The city's cultural wealth is on full display in its numerous museums and galleries. The Rijksmuseum, home to masterpieces by renowned artists like Rembrandt and Vermeer, stands as a testament to Dutch artistry. Meanwhile, the Van Gogh Museum houses the world's largest collection of the celebrated artist's works. For enthusiasts of contemporary art, the Stedelijk Museum Amsterdam showcases a remarkable array of modern pieces.
Historical Sites and Hidden Gems:
As you meander through the city, you'll stumble upon historical landmarks such as the Anne Frank House, which preserves the legacy of the young diarist, and the Westerkerk, a 17th-century church boasting a soaring spire. In contrast, you'll also unearth hidden gems like the Begijnhof, a tranquil courtyard dating back to the 14th century, and the delightful neighborhood of Jordaan, known for its boutique shops and cozy cafes.
Bicycles and Beyond:
Amsterdam's cycling culture is legendary, with more bicycles than residents. The city is tailor-made for two-wheel exploration. Rent a bicycle and navigate the city's extensive network of bike lanes, or simply savor the sight of locals gracefully pedaling along the canals.
Culinary Delights and Global Tastes:
Amsterdam's culinary scene is a melting pot of global flavors. Savor Dutch delicacies like haring (raw herring) and stroopwafels (waffle cookies), or indulge in a rijsttafel, a lavish Indonesian rice feast. Thanks to the city's multicultural atmosphere, you can sample dishes from around the world, from Moroccan tagines to Surinamese roti.
A Modern Hub of Creativity:
Amsterdam isn't just steeped in history; it's also a modern center for innovation and creativity. The city's startup scene is thriving, and its cultural events, music festivals, and cutting-edge architecture reflect a forward-thinking spirit.
Embracing Green Spaces:
Despite its urban character, Amsterdam provides ample green oases for relaxation. Vondelpark, the city's most renowned park, offers a peaceful retreat, while the Hortus Botanicus Amsterdam invites you to explore a world of exotic plants and botanical wonders.
Navigating the Waterways: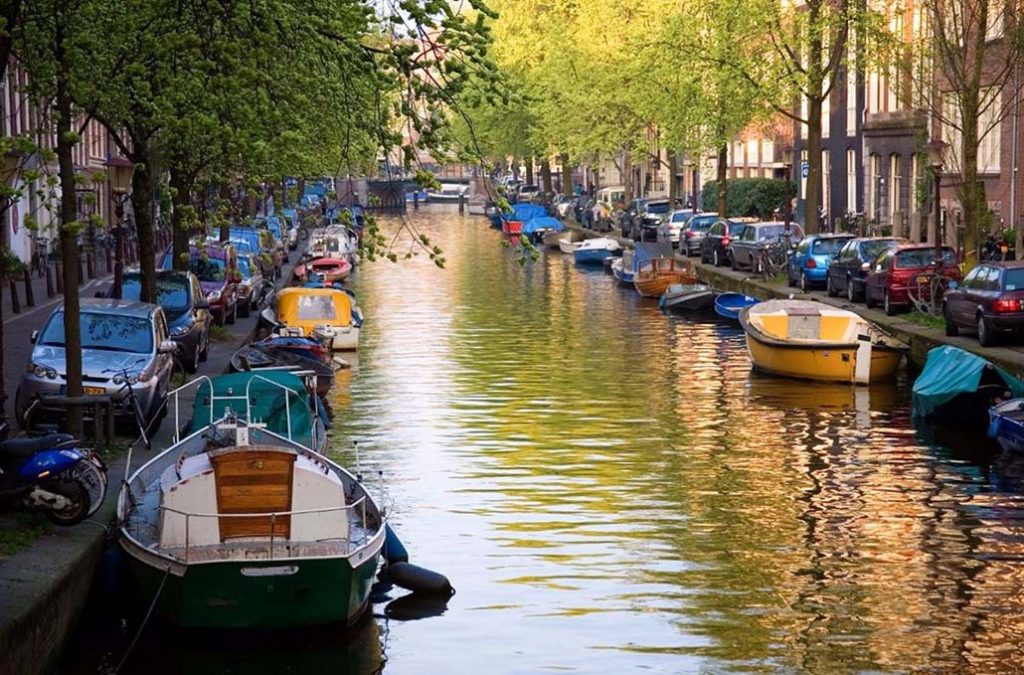 A visit to Amsterdam wouldn't be complete without a canal cruise. Whether you opt for a guided tour or rent a private boat, experiencing the city from the water offers a unique perspective, allowing you to appreciate the architectural marvels and historic landmarks from a tranquil vantage point.
Sustainability and Innovation:
Amsterdam is also at the forefront of sustainable urban development. From electric trams to eco-friendly initiatives, the city serves as a model of environmental consciousness.
Amsterdam is a city of harmonious contradictions, where the past and the present coexist in perfect equilibrium. Its enchanting canals, world-class museums, dynamic neighborhoods, and forward-looking culture make it a destination that caters to every traveler's desires. Amsterdam is more than just a place to visit; it's an experience that will leave you enchanted, offering a tantalizing glimpse into history while propelling you into an inspiring future.