Amsterdam, with its rich culture and artistic flair, offers a plethora of unique mementos waiting to be discovered.
1. Explore Local Markets:
Amsterdam is home to a multitude of vibrant markets that are treasure troves of unique souvenirs. Be sure to check out:
Albert Cuyp Market: Located in the De Pijp neighborhood, this lively street market offers an eclectic mix of clothing, accessories, Dutch snacks, and vintage finds.
Noordermarkt: Nestled in the charming Jordaan district, this market is renowned for antiques, organic products, and a bustling farmers' market on Saturdays.
Waterlooplein Flea Market: Amsterdam's oldest flea market is a haven for vintage aficionados. Here, you might stumble upon rare gems like vinyl records, antique books, and quirky collectibles.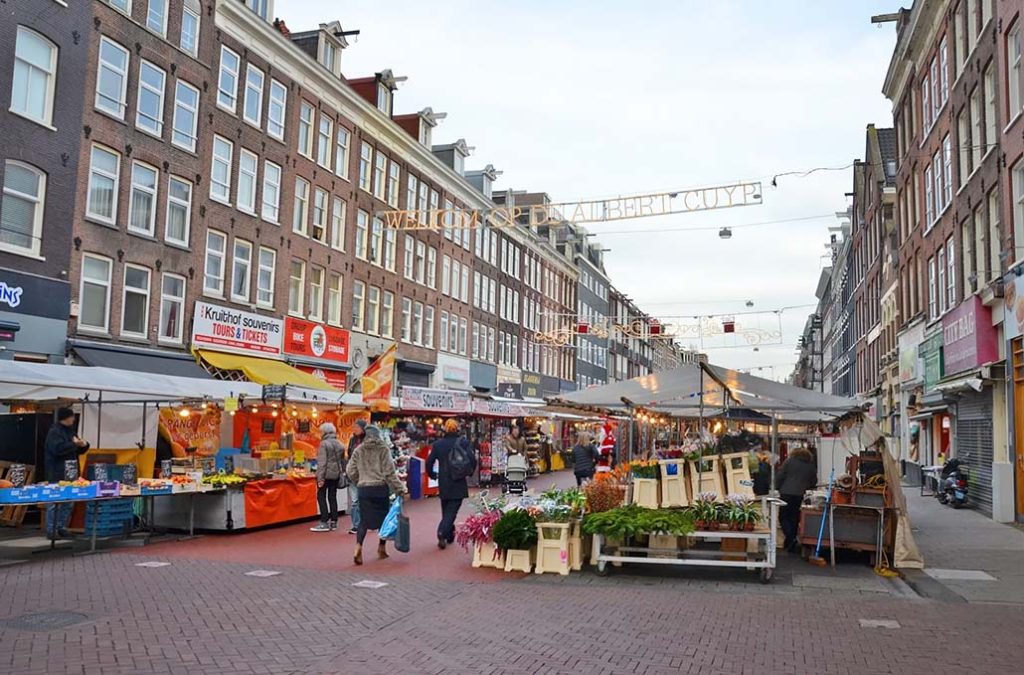 2. Boutique Shopping Experience:
Wander through Amsterdam's picturesque neighborhoods to discover an array of boutique shops where unique souvenirs await. De Negen Straatjes (The Nine Streets) district is particularly renowned for its independent boutiques, offering everything from handmade jewelry to designer fashion and artisanal goods.
3. Embrace Local Artistry:
Amsterdam's thriving arts scene means you can find original artworks and crafts by local artists. Seek out galleries, studios, and art markets such as the Spui Art Market, where you can purchase paintings, sculptures, and handcrafted jewelry directly from the talented creators.
4. Dutch Delicacies:
Don't leave Amsterdam without bringing home some quintessential Dutch delights as souvenirs. Visit traditional cheese shops to sample and purchase a variety of Dutch cheeses. Additionally, explore authentic bakeries for stroopwafels (thin waffle cookies), Dutch licorice, and Dutch gin (jenever) to share the flavors of Amsterdam with loved ones.
5. Flower Market Treasures:
The Bloemenmarkt (Flower Market) along the Singel canal is a unique spot to find flower-themed souvenirs. While tulip bulbs are a classic choice, you'll also discover a wide range of flower-related gifts, from hand-painted Delftware to botanical prints.
6. Delftware Delights:
Delftware, known for its distinctive blue and white hand-painted designs, is a quintessential Dutch souvenir. Seek out shops specializing in this iconic pottery, and consider acquiring a piece of Delftware as a timeless keepsake.
7. Vintage and Second-Hand Treasures:
Amsterdam boasts a thriving vintage and second-hand scene. Exploring vintage shops and thrift stores can lead to unique fashion pieces, retro home decor, and quirky collectibles that carry a piece of the city's history.
8. Personalized Keepsakes:
For a truly unique souvenir, consider having personalized items made, such as custom wooden clogs or Delftware tiles featuring your name or a significant date. These customized keepsakes will hold special meaning for years to come.
9. Prioritize Quality:
When shopping for souvenirs, focus on quality over quantity. Look for items that are well-crafted and reflect Amsterdam's unique culture and heritage. This ensures that your souvenirs will endure and continue to evoke memories.
10. Connect with Locals:
Engage with local shopkeepers and artisans. They can provide insights into the products they offer and share the stories behind them, enriching your shopping experience and helping you make more meaningful choices.