Colombo, the vibrant capital of Sri Lanka, offers a captivating mix of modern urban life and stunning natural landscapes.
The Urban Excursion: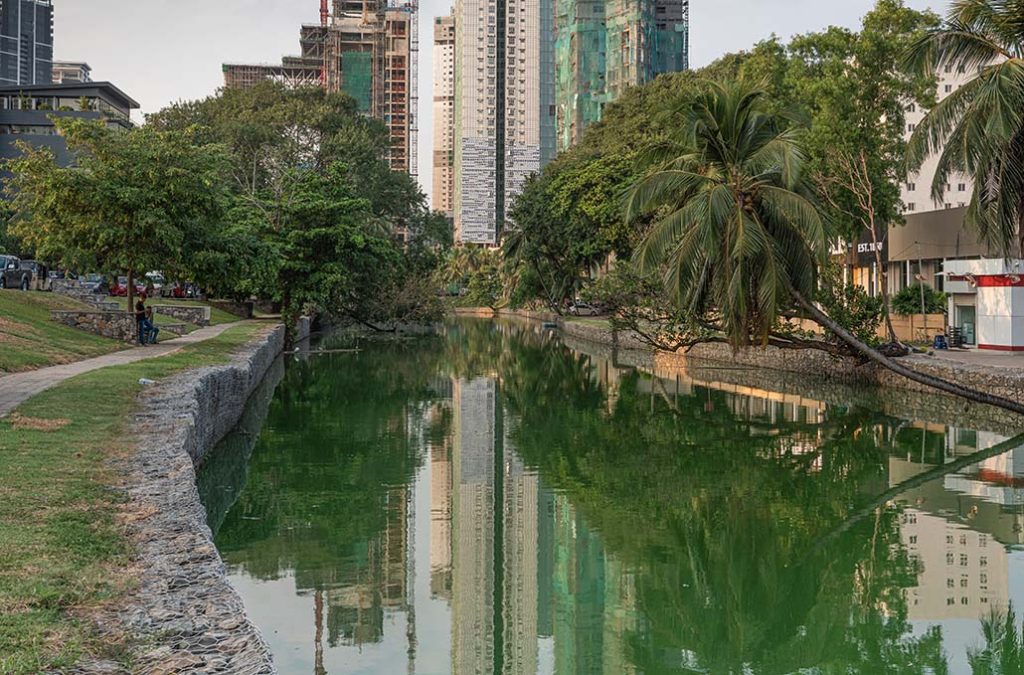 Galle Face Green: Begin your cycling journey at Galle Face Green, a picturesque oceanfront promenade. Glide along the scenic coastline while observing locals flying kites, indulging in street food, and savoring the mesmerizing sunset over the Indian Ocean.
Colombo Fort: Pedal your way to Colombo Fort, where colonial-era architecture harmoniously coexists with modern skyscrapers. Explore historic sites like the Old Parliament Building and the Dutch Hospital Shopping Precinct, beautifully preserved and repurposed for contemporary use.
Independence Square: Make a stop at Independence Square, a prominent symbol of Sri Lanka's independence. This open area features a statue of Sri Lanka's first Prime Minister and is surrounded by lush greenery—a perfect spot to take a break and absorb the historical significance.
Beira Lake: Embark on a cycling tour around Beira Lake, an oasis of serenity nestled in the city center. Admire the scenic beauty, relish the gentle breeze, and observe various bird species. Don't forget to explore the Seema Malaka Temple, a tranquil Buddhist temple situated on an island in the middle of the lake.
Embracing Nature's Tranquility:
Viharamahadevi Park: Leave behind the urban hustle and head to Viharamahadevi Park. Cycling through this lush urban park offers an escape into nature, with its beautiful flower gardens, children's playground, and ample green spaces providing a serene setting for a leisurely ride.
Diyatha Uyana: Discover Diyatha Uyana, also known as Waters Edge Park, featuring picturesque lakeside gardens and winding pathways. Enjoy a relaxed bike ride amidst the peaceful ambiance, perhaps pausing for a boat ride on the lake or a meal at one of the lakeside restaurants.
Dedicated Bike Trails: Colombo offers dedicated bike trails and lanes, such as the Green Path and the Colombo-Katunayake Expressway Cycle Path, providing safe and enjoyable routes for cycling enthusiasts to explore the city's natural beauty.
Practical Tips:
Bike Rentals: Colombo boasts numerous bike rental shops, making it easy to find the right bike for your adventure. Prior to setting out, inspect the bike's condition for safety.
Safety Precautions: Prioritize safety by wearing a helmet, obeying traffic regulations, and staying hydrated throughout your ride. Colombo's traffic can be bustling, so exercise caution when cycling on city streets.
Best Times to Cycle: The best times for cycling are early mornings and late afternoons to avoid the heat of the day. The evening presents a magical atmosphere for waterfront rides.
A Unique Cycling Odyssey
Colombo's harmonious blend of urban vibrancy and natural serenity makes it a unique destination for cycling aficionados. By exploring the city on two wheels, you'll have the chance to witness historic sites, savor local street cuisine, and escape into lush green sanctuaries—all in a single, unforgettable journey. Grab a bike, hit the road, and relish the perfect amalgamation of urban and natural exploration that Colombo has to offer.