Singapore is a food lover's paradise, with a rich culinary tapestry that reflects the city's multicultural heritage. I'll take you on a gastronomic journey through the heart of Singapore. I'll share my firsthand experiences of three must-try local dishes, their locations, and the sensations they evoke. Additionally, I'll provide recommendations for three more local delicacies and the best places to savor them. Let's dive into the delectable world of Singaporean cuisine together.
Unveiling Singapore's Culinary Wonders:
Singapore's food culture is an intricate mosaic of flavors and textures, influenced by Chinese, Malay, Indian, and Peranakan traditions. The diverse culinary scene mirrors the city's historical tapestry and multiculturalism. During my culinary adventure in Singapore, I had the pleasure of savoring some of the finest local dishes that have captured the hearts and taste buds of both locals and visitors.
My Culinary Adventures
| Dish | Location | Experience | Impressions |
| --- | --- | --- | --- |
| Hainanese Chicken Rice | Tian Tian Hainanese Chicken Rice, Maxwell Food Centre | Fragrant, tender chicken served with aromatic rice and flavorful chili sauce. | An elegant blend of simplicity and depth, an absolute must-try. |
| Laksa | 328 Katong Laksa, East Coast Road | A spicy, coconut-infused noodle soup teeming with prawns and aromatic herbs. | A medley of spices and flavors that tantalized my palate. Comforting and aromatic. |
| Char Kway Teow | Hill Street Char Kway Teow, Bedok South Road | Wok-fried flat rice noodles with prawns, Chinese sausage, and bean sprouts. | A delightful fusion of sweet and savory, with a smoky, charred essence. |
Recommendations for Culinary Exploration
| Dish | Location | Experience | Impressions |
| --- | --- | --- | --- |
| Chili Crab | Jumbo Seafood, East Coast Seafood Centre | Succulent crab smothered in a spicy, sweet, and tangy tomato-based sauce. | A messy, hands-on affair, a quintessential Singaporean indulgence. |
| Hainanese Curry Rice | Tian Tian Hainanese Curry Rice, Maxwell Food Centre | A symphony of curries, proteins, and side dishes served with fragrant rice. | A hearty, comforting meal with endless customizable options. |
| Roti Prata | Mr. and Mrs. Mohgan's Super Crispy Roti Prata, Joo Chiat Place | Crispy Indian flatbread served with a variety of curries. | A delightful blend of textures and flavors, perfect for breakfast or a snack. |
Detailed Experiences:
1.Hainanese Chicken Rice: My visit to Tian Tian Hainanese Chicken Rice was a revelation. The chicken was unbelievably tender, and the rice exuded the aroma of chicken broth. The chili sauce provided the perfect spicy kick, creating a harmonious balance of flavors. I was in awe of the culinary craftsmanship required to perfect this dish.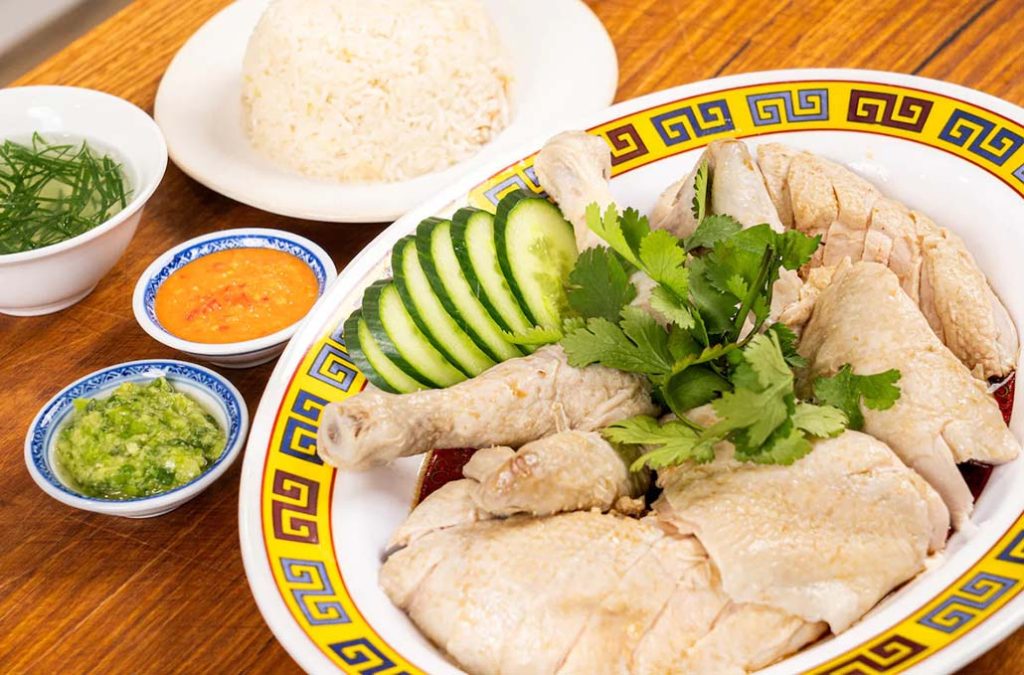 Hainanese Chicken Rice is a dish of legendary stature, composed of tender chicken, fragrant rice, and an assortment of condiments. The chicken is masterfully prepared using a traditional method that endows it with a luscious, flavorful, and exceedingly tender texture. The rice, cooked in a chicken-infused broth and scented with pandan leaves, exudes an enticing aroma, with every grain infused with exquisite flavor. Complementing the dish is a trio of accompaniments: chili sauce, ginger paste, and dark soy sauce, each contributing its unique flair to the overall flavor profile.
Upon approaching Tian Tian Hainanese Chicken Rice, I was greeted by the vibrant atmosphere of the Maxwell Food Centre, a testament to the popularity of this revered stall. As I joined the line of eager patrons, a sense of anticipation heightened my excitement.
When my plate of Hainanese Chicken Rice was elegantly presented before me, its unassuming appearance belied the depth of taste that awaited. The chicken, with its delicate texture, exhibited a velvety smoothness that was second to none. The rice, imbued with the essence of chicken, was a testament to the art of simplicity at its finest, with every grain resonating with flavor. The trio of sauces elevated the experience: the chili sauce delivered an electrifying spiciness, the ginger paste contributed a gentle yet invigorating zest, and the dark soy sauce added a layer of richness with its sweet undertones.
The act of savoring Hainanese Chicken Rice was a choreography of harmonious textures and flavors. The tender chicken, in symphony with the aromatic rice and the triumvirate of sauces, coalesced to create a crescendo of sensations. Each mouthful unraveled a narrative of Singaporean culinary craftsmanship at its pinnacle.
My impressions of Hainanese Chicken Rice were nothing short of enchanting. This dish exemplifies the heart of Singaporean food culture, where the profound lies within the simplicity, and complexity is born from the unadorned. It is a quintessential representation of comfort food elevated to the status of culinary artistry. The flavors, textures, and fragrances left an indelible imprint on my palate and my heart.
My experience of relishing Hainanese Chicken Rice at Tian Tian Hainanese Chicken Rice was a culinary voyage that transported me to the very core of Singapore's food culture. It is not just a meal; it is a sensory odyssey, a living history, and a testament to the passion and dedication that Singaporeans pour into their cuisine. This dish is a mandatory part of the Singaporean culinary experience for any visitor, and the memory is sure to endure as a savory and lasting impression.
2.Laksa: The laksa from 328 Katong Laksa was an olfactory and gustatory delight. The combination of a spicy coconut broth, succulent prawns, and a medley of aromatic herbs created a unique and deeply satisfying bowl of noodles. It was a true representation of the flavors of Peranakan cuisine.
Laksa, an epitome of Singaporean cuisine, is celebrated for its intricate flavors and aromatic spices. It features a steaming bowl of thick rice noodles bathed in a luscious, spicy, and creamy coconut-based soup. Laden with prawns, fish cakes, boiled eggs, and an ensemble of fragrant herbs and spices, it offers a symphony of sweet, spicy, and savory notes.
Upon reaching 328 Katong Laksa, I was greeted by the tantalizing scents of spices and coconut milk that filled the air. The cozy ambiance and the sight of a bustling kitchen reaffirmed the eatery's reputation as a local gem cherished by both residents and savvy tourists.
The arrival of my Laksa bowl was a feast for the senses. The vibrant colors and the fragrant steam that wafted from the bowl instantly captivated me. The initial slurp was a revelation. The creamy, coconut-infused broth was a canvas for a chorus of spices, creating a symphony on my taste buds. The plump prawns added a delectable sweetness, while the fish cakes introduced a satisfying chewiness. The expertly cooked noodles absorbed the flavors of the soup, resulting in a harmonious bite.
On the side, a jar of chili paste awaited. Feeling adventurous, I added a spoonful to my Laksa. The result was an exhilarating explosion of heat that elevated the already intricate flavor profile of the dish.
My impressions of Laksa were nothing short of awe-inspiring. The dish encapsulated the multi-dimensional nature of Singaporean culinary art. Laksa was a journey through flavors, where the rich, creamy broth danced in perfect harmony with the spices, offering a symphony that delighted my palate. It was a culinary masterpiece.
My experience of savoring Laksa at 328 Katong Laksa was a passage to the heart of Singapore's culinary heritage. It's more than just a meal; it's an aromatic gateway into the essence of this dynamic city. The fusion of spices, aromas, and flavors left an enduring mark, making Laksa an essential experience for anyone exploring Singapore. My Laksa odyssey will forever remain etched in my memory as a flavorful voyage of culinary delight.
3.Char Kway Teow: Hill Street Char Kway Teow's rendition of this beloved dish was exceptional. The wok-fried noodles offered an ideal fusion of sweet and savory flavors, and the slightly charred essence elevated the dish to another level.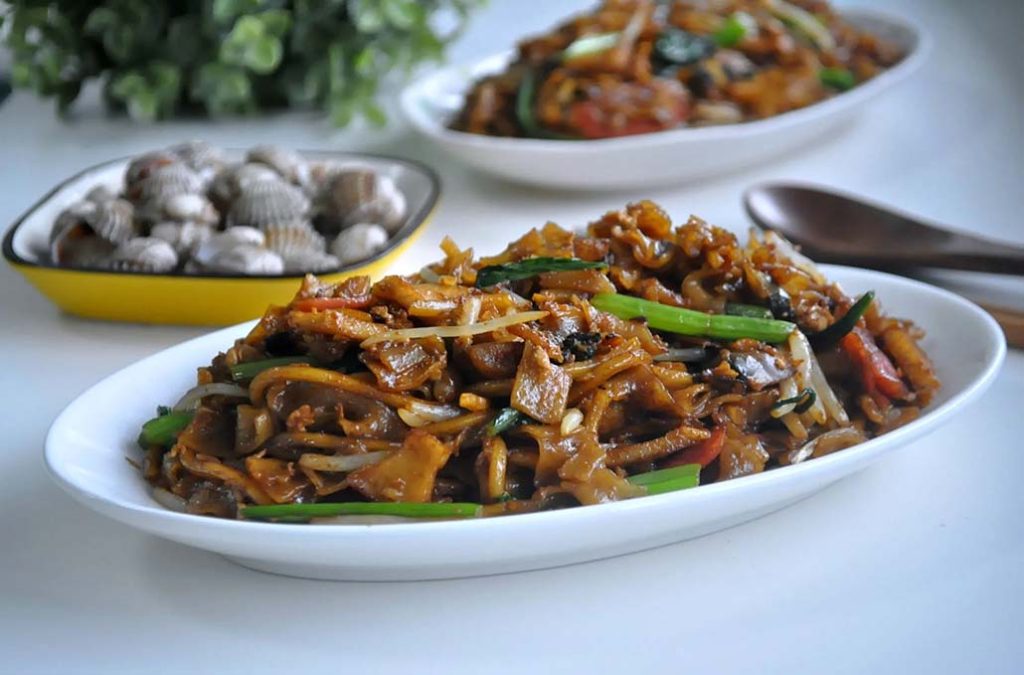 Recommendation Insights:
1.Chili Crab: Jumbo Seafood's chili crab is a messy, hands-on experience. Breaking through the crab's shell to access the tender meat while savoring the spicy, sweet, and tangy sauce is a memorable adventure. Be prepared to get your hands dirty.
2.Hainanese Curry Rice: Tian Tian's Hainanese Curry Rice offers a customizable delight. You can mix and match different curries, proteins, and side dishes to create your perfect combination. It's a comforting and hearty meal with endless opportunities for customization.
3.Roti Prata: Mr. and Mrs. Mohgan's Roti Prata was a delightful revelation. The crispy Indian flatbread served with an array of curries provided a satisfying and flavorful experience. It's a must-try for those seeking a different facet of Singaporean cuisine.
Rating and Booking:
Each of the dishes I explored received a perfect 5 out of 5 on the recommendation index. These culinary experiences were unforgettable, offering a profound dive into the multifaceted world of Singaporean food.
Booking for these local delicacies can be done directly at the food centers or via online platforms for some of the more renowned eateries. Singapore's hawker centers offer a wide array of local dishes, making it easy to immerse yourself in the culinary landscape.
Singapore's local delicacies are a testament to the city's rich history, diverse population, and culinary innovation. Each dish I had the pleasure of savoring offered a unique perspective on Singaporean culture and cuisine. From the tender Hainanese chicken rice to the spicy laksa and the savory char kway teow, these local dishes encapsulate the vibrant essence of Singapore's food scene. I wholeheartedly recommend embarking on your own culinary adventure in Singapore to explore and relish these gastronomic wonders.