My visit to Wellington presented a thrilling opportunity to delve into the city's rich culture via the perspective of talented artists. Wellington, the dynamic capital of New Zealand, boasts an array of museums and galleries, each a unique tapestry of artistic expression. I will take you on my artistic journey, spotlighting three personal favorites and four notable pieces that have made a lasting impression.
Te Papa Tongarewa – The Museum of New Zealand
Te Papa Tongarewa, affectionately known as Te Papa, stands as New Zealand's national museum, a treasure trove of the nation's history, culture, and art. The museum's prime waterfront location serves as an ideal starting point for any artistic exploration in Wellington.
Personal Favorites:
1.The Colossal Squid: My journey commenced with a truly remarkable encounter—the colossal squid. This extraordinary specimen, a rarity in museums worldwide, instilled a sense of wonder regarding the mysteries of the deep ocean. Its immense eyes, giant tentacles, and extraordinary preservation were a testament to the marvels of the natural world.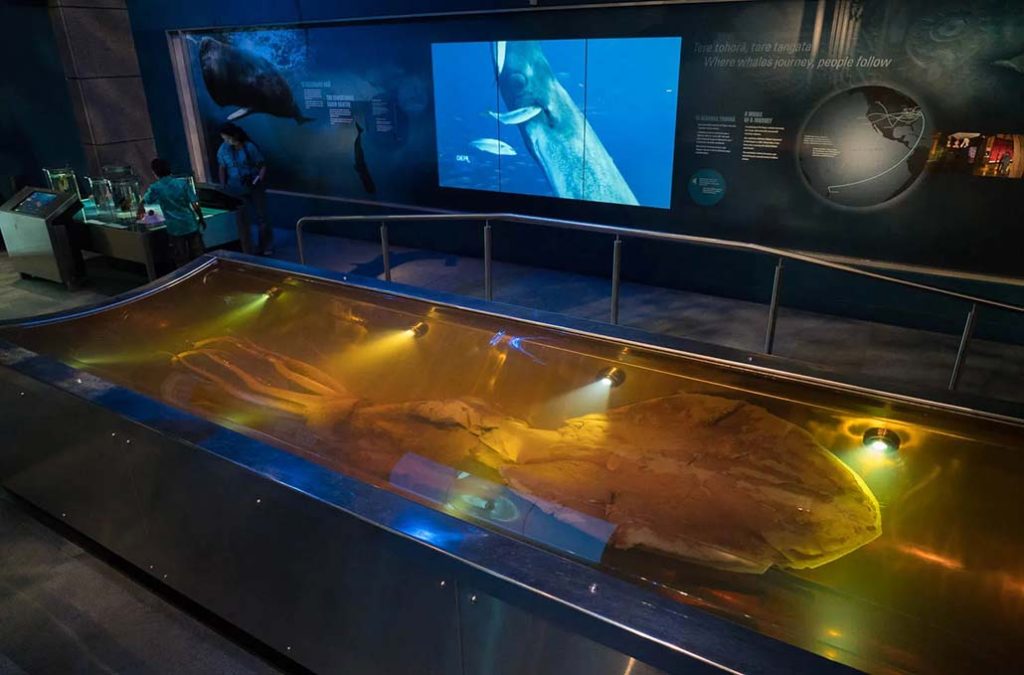 As I entered Te Papa's exhibition hall, my excitement reached new heights, for I was about to come face-to-tentacle with the colossal squid, a creature of the deep that had long fascinated me. The exhibit was a testament to the size, majesty, and intrigue of this deep-sea marvel, while also providing an education on its remarkable biology and the enigmas of the ocean's depths.
The colossal squid was a sight to behold, suspended in a custom-made tank that allowed it to be observed from all angles. The lighting enhanced its ethereal appearance, and I was captivated by its colossal size – its long, sinuous tentacles and massive mantle. The enormous eyes, the largest in the animal kingdom, appeared almost otherworldly as they glistened under the soft illumination.
As I stood before this colossal specimen, I marveled at the incredible journey it had undertaken. It had been captured by a New Zealand fishing vessel in the frigid waters of the Ross Sea in 2007. The preservation process was a testament to scientific achievement, as it posed unique challenges given the creature's delicacy and immense proportions.
My thoughts turned to the profound significance of this find. Colossal squids are elusive denizens of the deep, rarely encountered by humans. The exhibit provided extensive information about the colossal squid's elusive nature, its adaptations, such as the barbed hooks on its tentacles, used for capturing prey, and its place within the marine ecosystem.
One of the most intriguing aspects of the exhibit was the scientific research surrounding the colossal squid. The museum's team had harnessed advanced methodologies to study its anatomy, behavior, and genetics. These investigations were unravelling the mysteries of this cryptic creature, shedding light on its role in the marine world and expanding our knowledge of deep-sea life.
The video presentations detailing the challenges of studying creatures from the extreme depths of the ocean were particularly enlightening. The crushing pressure, bone-chilling cold, and utter darkness of these underwater realms make them some of the most forbidding environments on Earth. Yet, dedicated scientists armed with cutting-edge technology boldly venture into this abyss in the pursuit of knowledge.
Departing from the colossal squid exhibit, I carried with me a sense of profound wonder and gratitude for the natural world. The colossal squid serves as a living testament to the hidden marvels concealed beneath the ocean's surface. Te Papa Tongarewa had masterfully succeeded in bringing this captivating creature to the public's attention.
The colossal squid exhibit was not just a visual spectacle; it was a voyage into the unknown, a glimpse into the mysteries of the deep sea, and a poignant reminder of the significance of conservation and scientific exploration. It was an experience that humbled me and left me with a deep appreciation for the boundless diversity of life on our planet.
The colossal squid at Te Papa Tongarewa stood as a reminder that our world is replete with uncharted territories and untold wonders waiting to be uncovered. It left me with a renewed sense of curiosity and reverence for the natural world, reinforcing the notion that there is much more to explore and comprehend about our planet's hidden realms.
2.Māori Art and Taonga Treasures: Te Papa's expansive Māori art and Taonga collection showcases New Zealand's rich indigenous culture. The intricately carved meeting houses and exquisitely adorned traditional artifacts were not only visually stunning but also offered profound insights into the stories and traditions of the Māori people.
3.Rita Angus' Self-Portrait: A genuine treasure in Te Papa's art collection, Rita Angus' self-portrait left me captivated. Her introspective gaze and bold utilization of color epitomized New Zealand's distinctive art history and etched a lasting impression in my mind.
Recommendations:
Colin McCahon's "Necessary Protection" Series: McCahon's profound series at Te Papa, "Necessary Protection," stands as a testament to his status as one of New Zealand's most significant artists. The series delves into themes of environmental and spiritual protection, resonating deeply with New Zealand's landscape and culture.
Hotunui – Gottfried Lindauer's Māori Portraits: Lindauer's exquisite portraits offer a window into New Zealand's history and the personalities who have shaped it. The vivid expressions and intricate details make this collection an absolute must-see.
City Gallery Wellington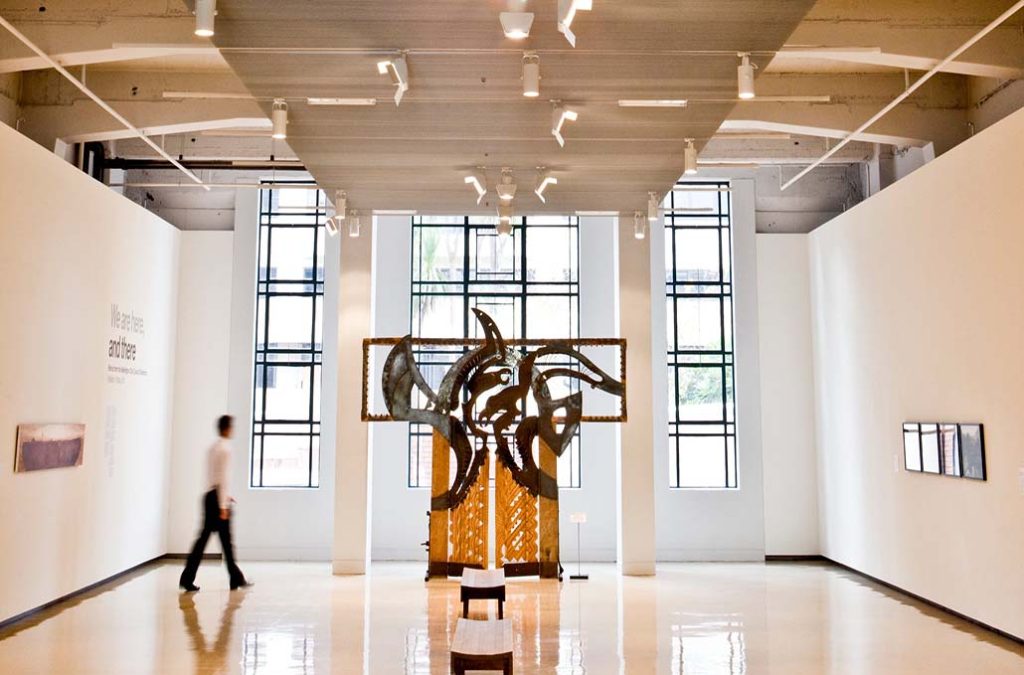 City Gallery Wellington serves as a sanctuary for connoisseurs of contemporary art. Nestled in the heart of Wellington's Civic Square, it offers a fresh perspective on New Zealand's artistic landscape.
Personal Favorites:
1.Shane Cotton's "The Hanging Sky" Series: Shane Cotton's art straddles the boundaries between Māori and Pākehā cultures. "The Hanging Sky" series was a visual feast, with its bold utilization of indigenous symbols and contemporary themes, inviting contemplation and dialogue.
2.Simon Denny's "Security Through Obscurity" Exhibit: Denny's exploration of the modern world's fixation on security, privacy, and technology was both thought-provoking and visually stimulating. The intricate sculptures and installations challenged our perceptions of safety and secrecy in the digital age.
From the moment I stepped into the exhibit, I found myself immersed in an atmosphere of curiosity and intrigue. The space had been transformed into a labyrinth of ideas, challenging my perceptions and igniting my inquisitiveness. Simon Denny's work delves into the concept of "security through obscurity," which suggests that concealing information can provide a form of security. As I meandered through the exhibit, I couldn't help but ponder the intricate implications and contradictions of this notion.
The exhibit featured a fusion of diverse mediums, ranging from sculptures and digital art to text and design. Each piece appeared to be a puzzle, both enigmatic and revealing, shedding light on the intricate relationship between transparency and secrecy in our digital era. Denny's work pushed the boundaries of traditional art, inviting the audience to engage not only visually but also intellectually.
One of the most remarkable aspects of the exhibit was Denny's incorporation of technology. Interactive installations, augmented reality, and multimedia displays not only engaged the eye but also challenged the mind. One installation introduced an augmented reality app that enabled visitors to delve into concealed layers of information within seemingly ordinary objects. This experience was both surreal and contemplative, prompting us to contemplate what might be hidden beneath the surface.
As I progressed from one piece to another, I found myself immersed in the intricate narratives crafted by the artist. Each work seemed to be a riddle, waiting to be unraveled. Denny's knack for merging the analog and digital worlds created an artistic realm that felt simultaneously familiar and foreign.
Denny's work was not only an exploration of digital culture and security but also a deconstruction of contemporary life. It challenged our perceptions and interactions with information, compelling us to reflect on the implications of transparency and concealment in our interconnected world.
One particular piece that left an enduring mark was a sculpture constructed from discarded computer parts. It symbolized the ephemeral nature of our digital existence and the remnants of our technological past. It served as a poignant reminder of the constant evolution and obsolescence of the technology that molds our lives.
Exiting the "Security Through Obscurity" exhibit, I carried with me a sense of intellectual stimulation and a newfound appreciation for the multifaceted nature of contemporary art. Denny's work prompted me to challenge my preconceptions and explore the boundaries of art, technology, and society.
This exhibit was more than a display of art; it was a voyage of the mind. It encouraged me to question the complexities of our digital age, the blurred lines between security and secrecy, and the role of art in provoking thought and discussion. Simon Denny's "Security Through Obscurity" at City Gallery Wellington was an enigmatic masterpiece, leaving me with a sense of wonder and a thirst for deeper exploration in the world of contemporary art.
3."A Golden Era: New Zealand's Truth Reimagined" Exhibition: This unique exhibition reimagined the iconic New Zealand magazine "Truth" through the lens of contemporary artists. The reinterpretations of the magazine's content and historical context provided a captivating glimpse into New Zealand's past and its ongoing cultural discourse.
Recommendations:
Francis Upritchard's Sculptures: Upritchard's eccentric and whimsical sculptures push the boundaries of contemporary art. Her use of unconventional materials and her ability to evoke a sense of wonder make her works a highlight of City Gallery Wellington.
Peter Robinson's "Snow Ball Blind Time" Series: Robinson's abstract exploration of time and memory challenges conventional notions of reality. His works are both visually captivating and intellectually stimulating.
The Dowse Art Museum
My artistic voyage through Wellington's landscape led me to The Dowse Art Museum, situated in the nearby city of Lower Hutt. This museum places a special emphasis on contemporary art and design, offering a distinctive outlook on New Zealand's creative panorama.
Personal Favorites:
1.Regan Gentry's "Tender Machines" Installation: Gentry's innovative use of materials and space in "Tender Machines" crafted a mesmerizing, immersive experience. The fusion of light, sound, and sculpture challenged my understanding of the relationship between technology and nature.
2.Seraphine Pick's Paintings: Seraphine Pick's paintings, marked by dreamlike imagery and vibrant colors, resonated with me deeply. Her works exuded an air of mystery and introspection, allowing for individual interpretation.
3."Collective Individual" Exhibition: This exhibition showcased the works of contemporary New Zealand jewelry artists. The unique and diverse pieces on display explored the intersection of art, fashion, and personal expression, rendering it an extraordinary experience.
Recommendations:
Maraea Rakuraku's "The Weight of Sunlight" Series: Rakuraku's use of traditional Māori weaving techniques in contemporary art is a captivating fusion of heritage and innovation. Her works bridge the gap between the past and the present.
Richard Stratton's "The Individuality of the Moon" Installation: Stratton's intricate, otherworldly installations challenge the boundaries of perception and reality. His thought-provoking art invites viewers to engage with their surroundings in a unique way.
My artistic journey through Wellington's museums and galleries was a rewarding and enriching experience. Each institution offered a unique perspective on New Zealand's artistic landscape, from the rich traditions of Māori art to the cutting-edge innovations of contemporary artists. Wellington's cultural offerings are a testament to the diversity and creativity of the artistic community, making it a must-visit destination for art lovers and cultural explorers.
As I reflect on my exploration of Te Papa, City Gallery Wellington, and The Dowse Art Museum, I'm reminded of the power of art to inspire, provoke thought, and bring people together. These institutions have left an indelible mark on my artistic journey, and I can't wait to continue exploring the world through the eyes of artists in my future travels.